November 2, 2022
And so was the Halloween of this year over. Last year was the first time we've had trick or treaters come to our home. We bought candy to hand out previous years but we lived in buildings that didn't really have any kids so no body came knocking on our door, so I was very excited last year to experience this for the first time. Lily was only 6 months old then so we didn't walk around the neighborhood ourselves cause it felt a little silly. This year was Lily's and my first time ever going Trick or Treat. I was very excited:) I told L about it all day and taught her to say "trick or treat" and "Happy Halloween". She loved being in a costume and walking around with her bucket. We walked early (when it was still light out), like we were the first ones to walk around, but Thor had to poop and I wasn't sure if L would be able to stay up late so that was why. When we came to the first house I told her again what she was supposed to do but she did not want to. I picked her up and we walked over as the neighbor met us half way with a bowl of candy. L was so shy hiding her face in my chest. But oh my she was excited to have got a little bag of candy. When we walked away she took the bag (gummy bears) out of the bucket and walked around with it like it was a piece of gold. I tried to have her go to different houses but she didn't want to. Some girl came up to her and put candy directly in the bucket, I held her walking up to a few homes, but she was shy and wasn't sure what was going on haha. 
Last year we had tons of kids coming to our house and before the Halloween night we saw many houses decorated and apparently it was a lot more the night of. So we bought tons of candy this year, cause the other two neighborhoods near here have had a bunch of new houses built in the past year. Lily and I spent some time setting everything up in our front yard during the day. And…womp womp womp… we had way less kids coming this year, we even told them to take two pieces of candy each (and we were giving out full size candy bars not just the little ones that everyone else had so the kids should be happy haha). We had like nobody coming after 7 so closer to 8 we went inside to put Lily to sleep, I left candy on a plate on one of the chairs in case some kids would come and it was gone when I came out later so we did have more. But overall it was a bit boring. Not many homes decorated either (J and I separately walked around with L a couple of times more to houses we hadn't gone to earlier to mostly just say hi to neighbors). Just like last year there were someone who had a movie playing on a projector and one house went all in with a scary tent and whatnot, but not much else. I did notice that some kids knocked on a couple of houses that gave out candy (which is at least how it used to be, I was a little confused last year that we were gonna sit outside and wait for everyone but that seems to be the new thing or something). But at least we got to experience it, and I think this was a nice first time for Lily (and me), she had fun and that's all that matters. 
It is not easy to come up with family costumes though. Super Heroes, Ghost Busters and Wizard of Oz etc. are just too common, and common is boring to me. I love seeing that with other families but nah. But who knows, maybe we end up like one of those choices next year:)
Anyway… I thought long and hard on what to do this year. I love babies in costumes especially the ones that are big like the avocado or the cow costume Lily has, too adorable. So I simply just started to think about costumes that would be cute on her and then find a theme around that. Elephant, mouse, any kind of fruit, all sooo cute.
We ended up as the characters from the movie Ratatouille. Lily was Remy the "Little Chef", Jim was Linguini who can't cook, Thor was cheese and I was Anton Ego, the food critic who is served ratatouille at the end. I think it turned out great:)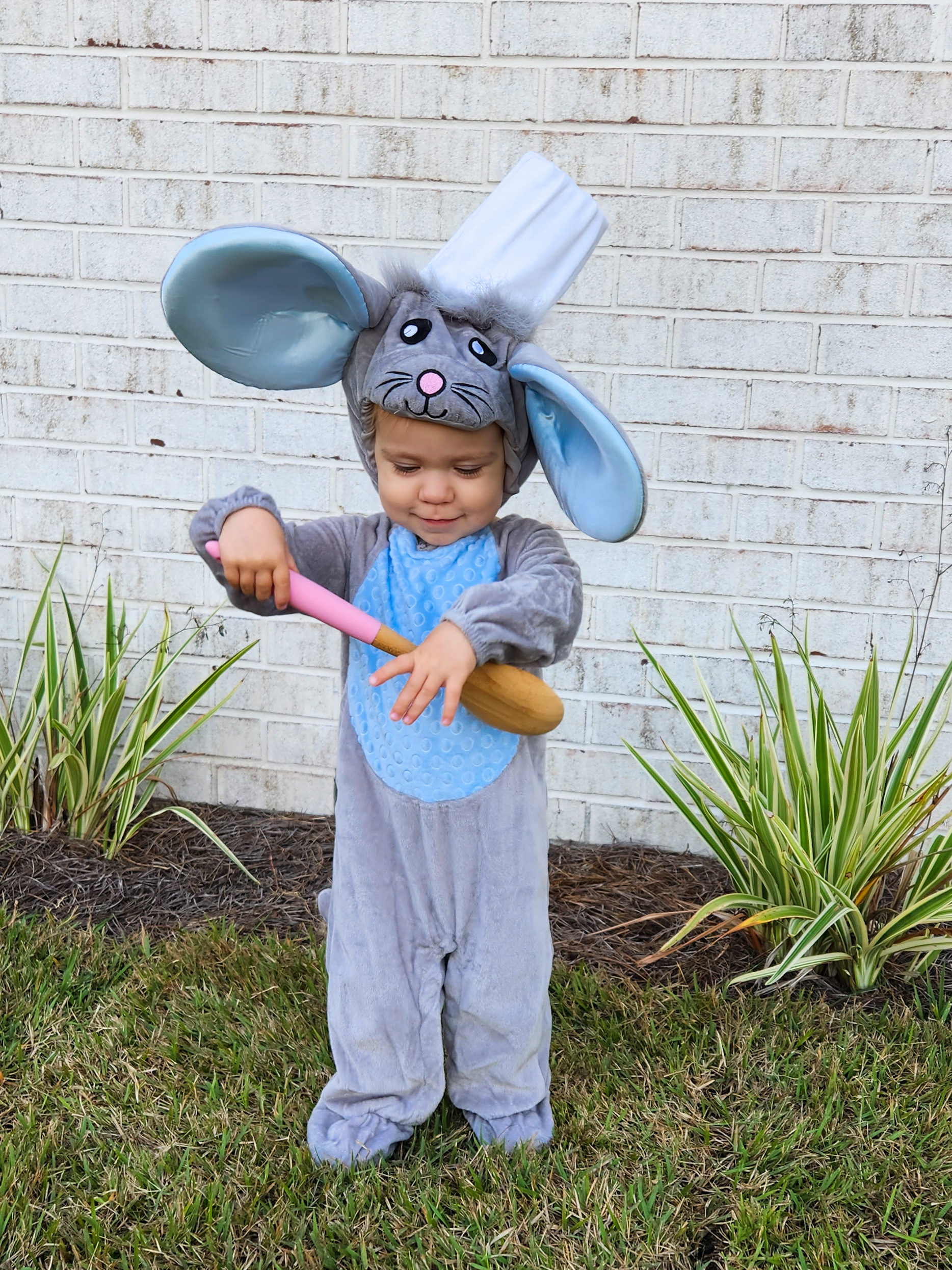 We bought a mouse costume and a wooden spoon for Lily and I created a chef hat out of paper covered by one of her newborn onesies and sewed that on the headpiece. I bought a yellow t-shirt size 2T, sewed the neck to be smaller and painted rings to make Thor into cheese (and he peed all over it the second he stepped outside, cause I hadn't been able to fold it up before). Everything else we bought online mixed with clothes we had at home.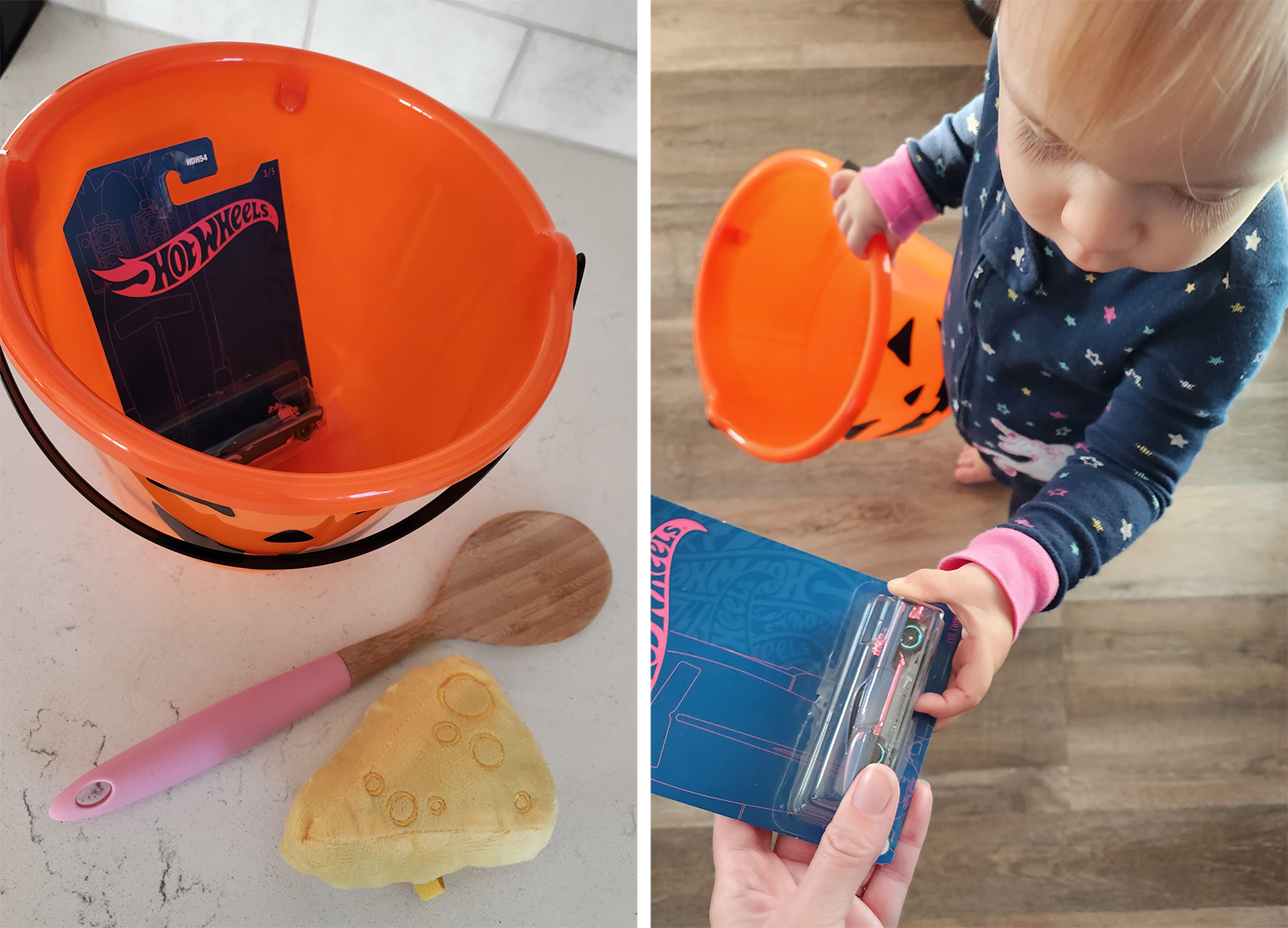 Lily has never really had actual candy before, only had a tiny taste of chocolate once (and then cookies, buns and ice cream but no candy candy if you know what I mean), and I don't plan on introducing that any time soon. So, I bought her a $1 gift to put in her bucket for the morning after. Luckily she was so occupied with everything going on at night that she didn't want to try the candy she had in her bucket (I also don't think she knew what it was and that it was eatable).